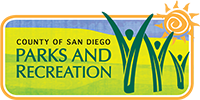 Volunteer Roles:
Live-in Park Host - This position requires 20 hours per week of scheduled duties in exchange for a campsite and hook-ups for a motor home or trailer. Duties vary at the individual parks and may include grounds and equipment maintenance, greeting the public, general clean up, and other assignments.
Group Volunteer Events - We provide great team building volunteer opportunities for organizations, corporations and civic groups. Park clean-ups, trail building and planting native vegetation and trees are just some of the rewarding activities for our group volunteers.
Day Volunteer - Day volunteers have time during their day to come and assist with all types of activities and tasks such as gardening, weed abatement, trash pick-up, and assistance with park programs. They may live near a specific park, or like giving of their time in that area - and we are happy to have them!
Park Docent/Naturalist - Volunteers with this title may lead hikes, tours, and/or provide interpretive programs at the parks, historic sites and open space reserves - and may even be involved in presentations or ongoing research and development. We are currently recruiting docents Volunteer for Rancho de los Peñasquitos Adobe and Rancho Guajome Adobe. Docents lead tours of the historic adobes, create public presentations and brochures, work with school children, and help coordinating special events. Ongoing training is provided.
Park Patrol - Open space areas and park preserves are served by volunteer foot, bicycle, and equestrian patrols. Patrol members assist the public with information on park resources and policies, help to ensure visitor safety, and aid in the maintenance of trails and open areas. Patrol members provide their own bicycles and horses.
Community Center Volunteer - Volunteer roles at our community centers cover include clerical, maintenance, gardening, coaching, and special event work. Centers are located in Fallbrook, Lakeside and Spring Valley. Not all positions are available at each site, but there are many opportunities to get involved.
Student/Youth Volunteers - We love working with the next generation of park ambassadors! Students, Scouts, interns, and other volunteers under the age of 18 are welcome to apply for volunteer work, or to complete a required project. Trash and debris pick-up, planting trees, and trail maintenance are just a few of the opportunities we offer. Interested patrons should register and complete the Youth section.
Volunteers in History - Volunteers are needed in the History Office to help manage and research park information, to assist with educational outreach, and to help develop interpretive programs. Please contact the History Office at (858) 966-1305 if you are interested in joining this dynamic group.
Volunteer Requirements:
A background check is required for most County Parks and Recreation volunteer positions
A medical screening is required for most County Parks and Recreation volunteer positions
Training is provided for all volunteer positions, and work records are maintained
Some positions require extensive training
For more information about volunteering with County Parks, contact Tony Richardson at anthony.richardson@sdcounty.ca.gov.