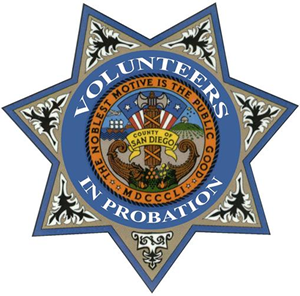 Volunteer Program
The San Diego County Probation Department recognizes the important contributions made by volunteers. We offer responsible citizens the opportunity to volunteer for a variety of important assignments throughout San Diego County through the Volunteers In Probation Program.
All volunteer assignments match the needs of the Department with the strength of the volunteer. For more information email Volunteer Services at Probation.Volunteers@sdcounty.ca.gov.
Volunteers in Probation (VIP), Inc.
Volunteers In Probation (VIP), Inc., is a registered 501(c)3 non-profit organization in the State of California. VIP is run by 20 board of directors whose mission is to provide assistance to probationers, at-risk youth, and their families through community partnerships and fundraising.
VIP also provides volunteer opportunities for people who recognize the value of public service for their community. VIPs serve in a variety of capacities including:
Case aides
Staff assistants
Instructors and tutors
Administrative assistants
Alcoholics Anonymous, Narcotics Anonymous, and religious volunteers
Criteria: Volunteers must meet minimum requirements including, but not limited to:
Minimum of 18 years old
No active probation or parole status of any kind
No felony convictions or history of violent crime
Possess a valid driver's license and auto insurance or California I.D.
No outstanding motor vehicle warrants
Commit to a minimum of 20 hours monthly for six months, during Monday - Friday, 8 AM to 5 PM